Although we are a small church, we want to do everything we can to provide a safe, secure, and healthy environment for all that attend Andover Alliance.  Andover Alliance Church has adopted a Safe Place Plan. The process began in the early 2000's. The Governing Board adopted Andover Alliance Safe Place Plan in August 2014.
A copy of our Safe Place Plan is available, as well as copies of many of the forms and guidelines. Contact one of the Elders if you would like more information.
Sunday School
Sunday School takes place each Sunday at 9:00 a.m. and is for all ages. Sunday School will break for the summer from July 3 - September 4, 2022.
Nursery
There is nursery care available during Morning Worship Service for infants and toddlers. Our Nursery Caregivers, will be happy to assist you. If you need assistance, contact the Greeter when you arrive.
Children's Church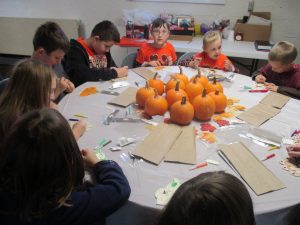 Children through fifth grade are welcome to come to children's church for an age-appropriate lesson. Children Church takes place during the pastor's message during our 10:00 a.m. service.
Come and join us!
Vacation Bible School
Children of all ages are welcome to join us for this year's Vacation Bible School, Zoomerang: Returning to the Value of Life. VBS takes place during the week of July 31-August 3, 2022 from 6-8 p.m. Stay tuned for more information!